Description
Wiseco pistons go through more finishing processes than any other piston on the market, without driving the cost up. They come with more features standard than any other piston on the market, at a more affordable price than many of the competitors. All of the Wiseco pistons for this application come standard with anti-friction skirt coating which helps minimize scuffing during break-in and lower friction on the cylinder wall. The top face of the piston is textured to improve the combustion characteristics, and all kits come with rings, pins and locks.
This Piston comes with Wiseco's new Armor Plating Coating. Armor Plated wiseco pistons have almost a bronze colored tint to the top of the piston and the wrist pin bore. Wiseco's Armor Plating is an abrasion resistant plating that raises the hardness of the aluminum, increases the durability of the ring grooves, prevents micro-welding of the piston rings, reduces carbon buildup and combats corrosion caused by detonation. Wiseco's most popular pistons now include Armor Plating.
Our Sport Compact pistons are made from dedicated forgings produced in-house to give you a light weight piston with superior strength and optimal design. Being the multivalve piston technology leader, the line features specially designed valve pockets, complex dome and crown shapes, the steel nitride/napier xx rings and optimized skirt profiles. The pistons come standard with our ArmorGlide coating material for reduced friction and noise, freeing up horsepower.
Specifications
More Information

| | |
| --- | --- |
| Note | 1400HD with .225" wall tool steel pins. |
| Item Weight | 369 g |
| Shipping Weight (Dimensional) | 5.0000 |
| Part Type | Pistons |
| Make | Mitsubishi |
| Vehicle Model | Evo 4 5 6 7 8 9 |
| Vehicle Group | Evo 4-6 CP9A, Evo 7-8 CT9A, Evo 9 CT9A |
| Engine | 4G64 (7-Bolt) |
| Compression Ratio | 10.4:1 |
| Bore Diameter | 87mm |
| Pin Size | 0.866" / 22mm |
| Included Ring Set | 8700XX |
| Included Pin | S722 |
| Head cc | 43 cc |
| Dome cc | -14 cc |
| Compression Height | 1.378" / 35mm |
| Piston Coating | Crown Coating, Skirt Coating |
| Manufacturer | Wiseco |
| Stroke | 100mm |
| Skirt Type | Slipper Skirt |
| Rod Length | 5.900" / 150mm |
| Piston Material | 2618 |
| Compression Ratio Gasket Thickness | 0.042 |
| Compression Ratio Range | 10.0:1 - 11.0:1 |
| Bore Oversize | 0.020" / 0.5mm |
| Engine Head | 4G63T (7-Bolt Evo 4-8), 4G63T (7-Bolt Evo 9) |
| Rod Length Oversize | Standard Length |
| Carb Legal | Unspecified |
| Stroke Oversize | Standard |
| Wrist Pin Dimensions | .866" x 2.362" x .225" |
| Pin Material | 9310 Steel |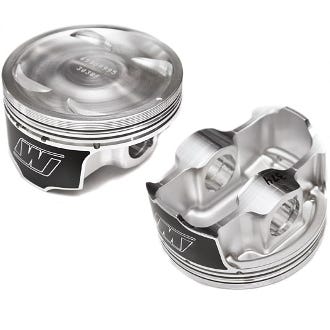 Wiseco AP HD Pistons 4G64 7-bolt with 4G63T 7-bolt EVO 4-9 Head 87mm 0.5mm 10.4:1 100mm Stroke