The much anticipated Ultra "Street" Intake Manifold for the '02-'05 Civic Si and '02-'06RSX/ RSX Type S, and/ or any swap using the K20A/ K20A2/ K20Z1/ K24A1 engines or cylinder heads has finally arrived!
The Ultra Series is years of research and development, culminated in a multi-piece cast aluminum intake manifold that offers advantages that only a modular design could allow. Using the latest in CFD (Computational Fluid Dynamics) software; Skunk2 Racing has created a two-piece modular design that allows for easy disassembly, porting, and plenum volume changes through the use of a removable plenum lid and optional plenum spacers. In addition to CFD testing, the Ultra Series Intake Manifold has undergone extensive in-house dyno testing which has led to a design that is less restrictive, yielding both torque and power gains well over many of the competitors.
Skunk2 Racing Ultra Street Intake Manifolds are cast-aluminum, manufactured from high-grade 356 aluminum alloy for strength and lightweight. Each manifold is CNC-machined for a precise fit, and individually inspected for quality assurance. The Ultra Series Street manifold features a generous 71mm throttle body opening and is constructed with thick walls at entry, minimizing concerns of breakthrough when port matching. Intense planning and design went into the plenum to distribute even airflow to all four cylinders under dynamic load conditions. Placement and design of the velocity stacks were rigorously flow tested to ensure maximum delivery of air to the cylinder. Large velocity stack raised bell mouth entries lead to 6.85" long intake runners with smooth transitions allowing the Ultra Street Intake Manifold to really move some air!
 

Skunk2 Racing Ultra Street Intake Manifolds are designed to be used in modified naturally aspirated applications as well as mild turbo/supercharged setups.
FEATURES:
Modular 2pc. Design w/ Removable Plenum

Rotatable Plenum Allows Driver-side or Passenger-Side Throttle Body Mounting

1.8L Plenum Volume
**
Tapered 6.85" Long High-Velocity Runners w/ Raised Velocity Stack Entries

Generously Cast Runner Walls for Porting

71mm Throttle Body Opening

Lightweight 356 Aluminum Alloy Construction

Hi-Grade Mounting Hardware
Thermal Gasket Included
2 x 1/4" NPT and 2 x 1/8" NPT Accessory Ports
**Optional Billet Aluminum Plenum Spacer Available in .5L Size
Fitment and Specs
2002 - 2005 Honda Civic (2.0L Si)
2002 - 2006 Acura RSX (2.0L Base/Type S)
Notes
The K Series Ultra "Street" Manifold uses the EARLY PRB/ PRC style cylinder head and throttle body mounting flange pattern but can be installed on the LATE RBC/ RBB style cylinder heads through the use of an aftermarket Water Bypass Adapter and our DBW Throttle Body Adapter (PN# 309-05-0120)
Installation on the '02-'05 Civic Si (EP3) requires several modifications. The radiator core support must be trimmed, the wiring for the TPS sensor may need to be extended, and clearance between the TPS and radiator hose may require custom upper hose or modification for the radiator.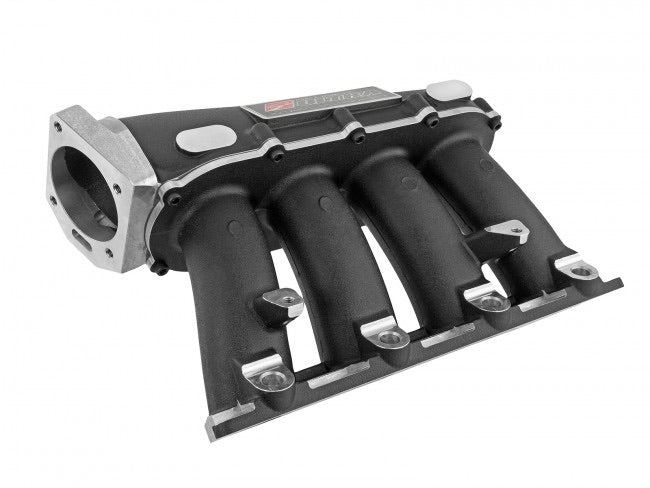 Ultra Street Intake Manifold - K20A2 Style - Black