This is the NEW Tial MVS 38mm with a 38mm Vband Flange Inlet and a Vband Flange Outlet. The kit comes with both the inlet flange and outlet flange AND both clamps. It also includes all air fittings, block off fittings, banjo bolts and everything else required to install.

Wastegates are an essential part of any turbocharged powerplant. Controlling boost not only ensures that you are maintaining the correct pressures for the fuel you are running, but it also prevents overboost situations where the turbocharger is forced to spin faster than it would like. In these instances, you actually can loose horsepower, as the air is being super-heated by the compressor. 

This TiAL unit will handle boost control duties flawlessly when placed in a well designed system. This wastegate comes standard with TiAL's racing valve stem. The valve stem has a wear coating on it which is resistant to corrosive lead oxides that appear when running leaded racing fuels.

TiAL Sport Inc. USA takes pride in establishing its company reputation by designing the highest quality engineered products for today's performance turbo charging systems market. The production of TiAL Products super alloy based 46mm wastegate was the inception of the company's ability to design, manufacture and deliver to the market a high performance and high quality product at a market competitive price. We are proud to bring to you our USA made, high-performance automotive products. Our main goal is to design, engineer, and manufacture the best possible products. At TiAL Sport we believe there is no room for compromise. We only create innovative designs and produce and deliver the highest level of product integrity. TiAL Sport is looking forward to meeting and exceeding your high performance engine boosting systems needs.
 
High temp NiCrFe based alloy is used for valve and 347SS valve housing will offer longer product life compared to competing designs.
High temperature silicone Nomex reinforced actuator diaphragm.
17-7 PH Stainless Steel actuator spring gives consistent pressure at high temperature, resist "relaxing" at temperature to 900F (483C).
Nitronic 60 Stainless Steel is used for the valve seat, and valve bushing.
All Stainless Steel hardware.
Mating weld flanges are 304L
Color anodized aluminum actuator (Silver, Red, Blue, Purple, Black).
3 lower ports and two top ports for easy install, no need to rotate the actuator top at all, plugs included for unused ports.
Ultra compact design fits in very tight spaces, the unit stands only 3.7" tall, more compact than any other external wastegate on the market today.
V-Band inlet and outlet make install easy, flanges and clamps are in the box!
Integrated -4 AN water cooling ports that cycle a small amount of coolant through the actuator top to keep the temperatures down in extreme conditions such as road racing. These are leak tested after installation from the factory and can be removed if not utilized.
| | |
| --- | --- |
| MV-S | Option |
| Flange Materials | 304L Stainless |
| Pipe Size | Inlet Flange: 1.75" OD, Outlet Flange: 1.50" OD |
| Colors |  Silver |
| Spring Pressures | .3bar to 1.7bar Included |
| Thread | Air Ports (5): M10 x 1.0, Water Ports (2): M8 x 1.0 |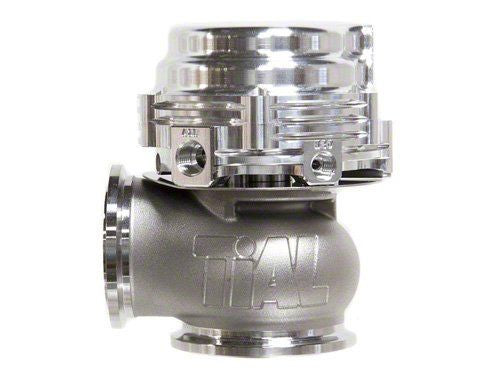 Tial MVS 38mm V-Band SILVER Wastegate