Description
The angle that the stock cams are clocked to when installed at the stock location on factory cam gears not always the most effective for making power with aftermarket cams. Aftermarket cams with more aggressive lift and duration often need to be dialed in at a specific angle to optimize the powerband for your setup. Adjustable Cam Gears are important when installing cams as they allow you to dial in the cam degree for optimum performance.
Fitment:
Honda D15A2, B1, B2, B6, B7, B8, Z1
Honda D16A6, Y7, Y8, Z6
Note:
Add a Skunk2 Pro Series Intake Manifold and Throttle Body for the ultimate power increase.

An engine's camshafts must be set at their proper positions relative to the crankshaft in order to maximize horsepower. The Pro Series Cam Gear for Honda's D-series engines enables serious tuners to optimize horsepower and torque by being able to adjust camshaft timing +/- 10 degrees, allowing them to tailor the power curve appropriately. Thanks to laser-etched timing and directional marks, precise camshaft adjustments can be made quickly and easily. Pro Series Cam Gears feature precision-machined, hard-anodized teeth to reduce premature wear with a signature, six-bolt design that eliminates gear slipping. Skunk2's lightweight design (35 percent lighter than OEM) and CNC-machined, 7075-T6 billet aluminum construction reduces rotational inertia, resulting in increased engine response and acceleration. Skunk2's adjustable cam gears have also been proven on race cars in the most extreme conditions for more than a decade.
Specifications
More Information

| | |
| --- | --- |
| Shipping Weight (Dimensional) | 1.0000 |
| Part Type | Adjustable Cam Gears / Sprockets |
| Make | Honda / Acura |
| Vehicle Group | Civic Non-VTEC 96-00 EK, Del Sol VTEC 94-97 EG2, Civic 87-91 EF, CRX 88-91 ED |
| Engine | D15B2, D15B6, D15B7, D15B8, D16A6, D16Y7, D16Y8, D16Z6 |
| Color | Titanium |
| Manufacturer | Skunk2 |
| Quantity | Individual |
| Camgear Position | Intake & Exhaust |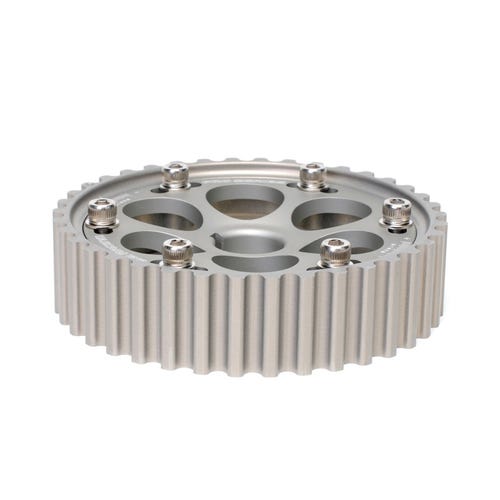 Skunk2 Adjustable Cam Gear SOHC Honda Civic CRX D15 D16