Click here to download installation instructions (PDF)
COMPATIBILITY
08-14 Subaru Impreza (all)
08-14 Subaru Forester (all)
05-09 Subaru Legacy (all)
05-09 Subaru Outback (all)
15-21 Subaru STi

14-18 Subaru Forester XT
15-21 Subaru WRX
The 2 vehicles listed above require extra components described below. 
1. The OEM fuel tanks may be the same, but the OEM fuel units are completely different. To adapt the OEM fuel level sensor to the Radium fuel pump hanger, 20-0850 FUEL LEVEL SENDER ADAPTER, FA20 is required.
2. The OEM fuel system is returnless. The fuel pressure regulator that is normally inside the OEM fuel unit is discarded. An aftermarket FPR is required.
OVERVIEW
The Radium fuel pump hanger for late model Subaru vehicles replaces the OEM unit and allows the use of 1 or 2 high-flow aftermarket fuel pumps. The system is safe to use with alternative fuels such as E85. The machined assembly mounts in the factory fuel tank using the OEM gasket and replaces the OEM hold-down flange. No permanent modifications are required making installation simple.

NOTE: THE FUEL HANGER ELIMINATES THE POST PUMP FILTER. A LOW MICRON FUEL FILTER WILL NEED TO BE INSTALLED DOWNSTREAM. THE FUEL PLUMBING KITS BELOW INCLUDE THIS REQUIRED ITEM.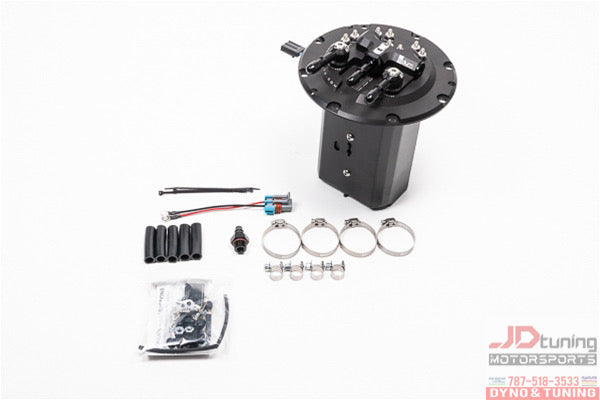 Radium Subaru Fuel Hanger For Walbro F90000267/274/285 - Pumps Not Included