The 20-0105 PCV Catch Can Kit (shown below) is compatible with all 2008-2016 EVO X models. It installs immediately behind the RH headlight and plumbs in-line with the PCV hose. When the PCV valve is open, unwanted crankcase vapor, unspent fuel, and oil sludge are drawn into the intake manifold. The catch can acts as an in-line filter trapping and holding the contaminants before they can get to the intake manifold. Note: Because Radium catch cans are pressure sealed, they are great for boosted applications as well so connecting to the intake manifold is permitted and will withstand any boost level, no check valve required.
EVO X CATCH CAN KIT DETAILS
Radium Engineering offers several completely independent oil catch can kits for the Evo X that are sold individually or together using the menu above. The first type do NOT vent to atmosphere (VTA), thus are emissions and track legal. Closed loop systems route clean filtered air back in through the engine to be burned and to promote negative crankcase pressure for optimal performance. Furthermore, closed systems prevent unwanted oil vapors into the cabin. The Crankcase VTA kit does not recirculate crankcase gasses back through the engine and is intended for race vehicles dealing with a large amount of blow-by gasses.
The PCV kit shown above is a closed system that requires a vacuum signal from the intake manifold to open the PCV valve. 



*Special order item*
NOTE: Some European models have headlamp washer reservoirs which creates an interference with the PCV catch can.

Whats included in the 20-0105 PCV Catch Can Kit:
-Billet oil catch can with integrated condenser and dipstick
-Laser cut powder coated RH mounting bracket
-Anodized aluminum hose ends and adapter fittings
-Enough 3/8" black PCV hose for custom applications 
-Stainless steel mounting hardware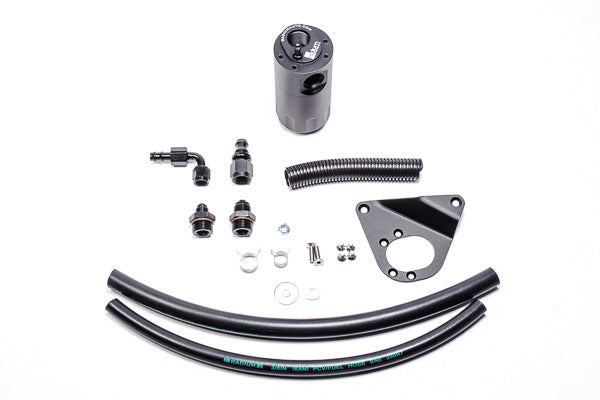 Radium Engineering Oil Catch Can PCV Kit Evo X 4B11T