For the ultimate in engine protection, Radium recommends 20-0426 Dual Catch Can Kit, Civic Type-R.  
This kit utilizes both the "CCV" and "PCV" catch can kits detailed above. It is designed for LHD vehicles.
Each kit features the following: 
-Anodized oil catch can with integrated condenser and dipstick
-Anodized aluminum Honda FK8 specific mounting bracket
-Anodized aluminum -AN adapter fittings and hose ends
-Enough PCV hose for custom applications  
-Stainless steel mounting hardware
Radium Engineering catch cans feature large 10AN ORB ports, a 4AN ORB drain port, 2-step oil separation baffling, and an O-ring sealed dipstick. This kit mount using factory holes and integrate perfectly with the surrounding components. These two oil catch cans (PCV side and CCV side) function completely independent of each other and are sold individually or together. They do NOT vent to atmosphere (VTA), thus are emissions and track legal. Closed loop systems remove the oil and sludge from the PCV gasses before it is routed to the engine to be burned. A closed loop system also promotes negative crankcase pressure for optimal performance. Furthermore, closed systems prevent unwanted oil vapors from entering the cabin. The dipsticks built into the catch cans allow easy inspection of accumulated fluid. No cutting, drilling or permanent modification to the vehicle is required. For more information on Radium catch cans, CLICK HERE.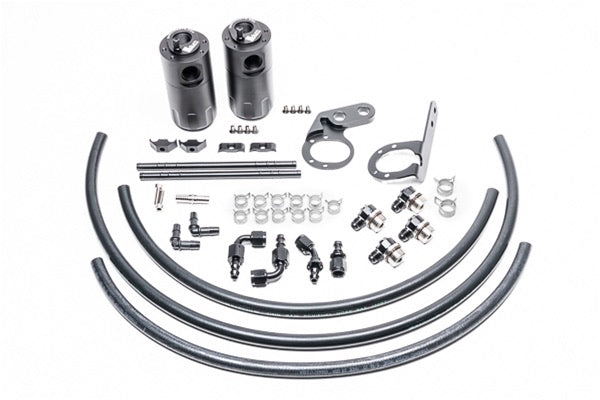 Radium Engineering 2017+ Honda Civic Type-R Dual Catch Can Kit