Dual catch can kit for the 2002-2021 Subaru Impreza-based vehicle with EJ engine. Mounts to passenger side strut tower. All brackets, fttings and hoses included.
An oil catch can is essential for engine protection from elevated levels of crankcase blow-by oil that accumulate during aggressive driving. Excess oil saturated air circulating back into the air intake stream can lead to degraded performance by depositing oil on the inside of the induction system, intercooler, intake manifold, etc. Radium Engineering catch cans feature large 10AN ORB ports, a 4AN ORB drain port, 2-step oil separation baffling, and an O-ring sealed dipstick.
This kit contains two independent catch cans, each plumbed into different parts of the PCV system. The cans do NOT vent to atmosphere (VTA), and instead maintain the factory plumbing strategy. This closed-loop system routes clean filtered air back in through the engine promoting negative crankcase pressure for optimal performance. Furthermore, closed loop systems prevent unwanted oil vapors from being detected in the cabin.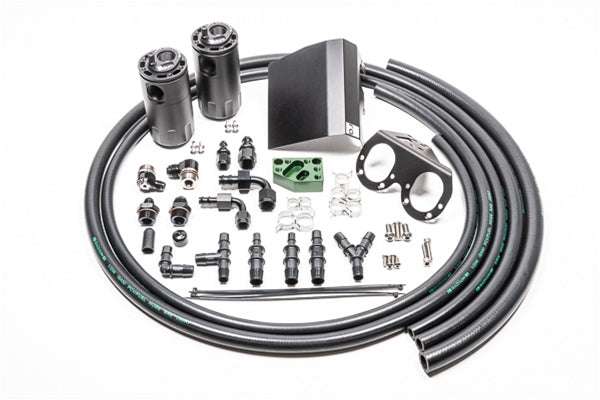 Radium 02-21 Subaru EJ-Series Fluid Lock Turbo Dual Catch Can Kit