This popular 67mm turbo is rated for 935hp depending on the application. If you are unsure of which specs would be best for your build, call or email us first so our experienced sales and tech staff can help answer all of your questions.

Precision recently redesigned their 65mm turbine wheel, improving on its efficiency, and increasing the size to 66mm. They advertise a 30hp boost in power with the same, or better spool thanks to its better design. The new 66mm turbine wheel is a CEA design which means you will gain the similar benefits from a cast CEA exhaust wheel as you do from the billet CEA compressor wheel.

We get many questions about "whats the deal with this billet craze" and its not just that the billet wheel is lighter than the cast wheel, its an entirely new compressor wheel design that is more efficient than the older cast wheel. The old design worked well for many years, but as technology progresses, we get better, more efficient designs. This turbocharger comes in a wide range of housing combinations. Most 4cyl applications will use the T3 back housing configuration while most 6 and 8 cyl applications will go with the T4 exhaust housings. If you need any help picking out the correct turbo to fit your goals and budget, please contact one of our experienced sales staff to guide you through the selection process.
| | |
| --- | --- |
| Note | Turbine housing requires V-band Clamp 071-1026 and V-Band Flange 074-3012. |
| Shipping Weight (Dimensional) | 20.0000 |
| Part Type | Turbochargers |
| Make | Universal |
| Vehicle Group | Universal |
| Engine | Universal |
| Manufacturer | Precision Turbo |
| Name | 6766SP |
| Compressor Wheel Material | Billet |
| Compressor Wheel Inducer | 67mm |
| Center Cartridge | Journal Bearing |
| Exhaust Housing Inlet | T3 |
| Exhaust Housing Material | Cast Iron |
| Compressor Housings | "SP (Anti-surge)" - 4.0"/2.5" |
| Exhaust Wheel Exducer | 66mm |
| Exhaust Housing Outlet | V-Band |
| Exhaust Housing AR | .82 |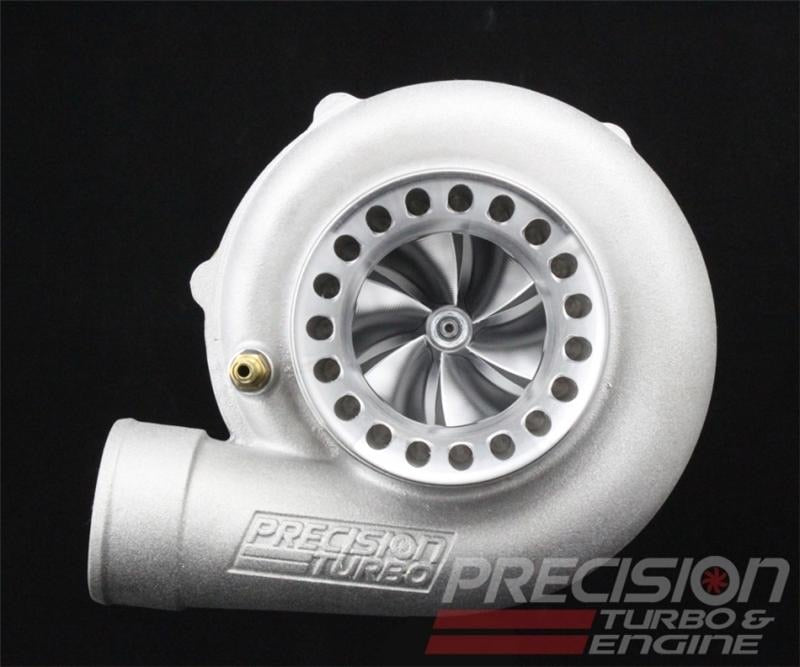 Precision Turbo SP Cover CEA Billet 6766 Journal Bearing T3 .82 V-Band