What is a fuel surge tank?
A fuel surge tank (FST) is designed to prevent fuel starvation to the engine on vehicles with inadequate fuel tank baffling. Fuel is supplied to the surge tank by a lift pump, which in most cases is the OEM in-tank fuel pump.  The volume of fuel inside the surge tank acts as a buffer to always keep the FST pump(s) supplied with fuel, even if the lift pump starves momentarily. This volume is maintained by the lift pump as well as the fuel returning from the fuel pressure regulator. Excess fuel in the surge tank is returned back to the vehicle's main fuel tank. The surge tank also provides a quick and easy way to upgade any standard fuel system without opening the stock fuel tank. This is an excellent fueling solution for vehicles installing large demand power upgrades such as forced induction.


Multi-Pump Fuel Surge Tank (MPFST)
Recently redesigned for 2019, the Radium Engineering MPFST is the perfect solution for high power vehicles experiencing fuel starvation during aggressive driving. Multiple high flowing fuel pumps can be used in the surge tank.
Because the compatible pumps utilize a check valve, the MPFST merges all pumps into a single outlet simplifying external plumbing. NOTE: The brushless Ti Automotive E5LM MPFST includes check valves.

The pumps are mounted using an anodized aluminum bracket. All internal wires are gasoline, ethanol, and methanol compliant.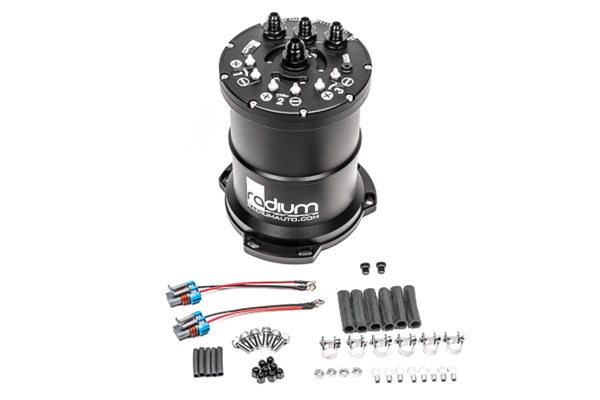 Multi-Pump Fuel Surge Tank Walbro F90000267/274/285