PRODUCT DETAILS
Manley Performance Sport Compact stainless steel valves utilize our exceptional "Race Series" alloy and are manufactured to the highest quality standards.

Manley valves are designed to outflow and outperform all others even in the most severe environments. Manley stainless valves feature gorgeous yet durable chrome stems, swirl polished under heads, fully hardened tips, completely machined combustion faces, closely controlled margin heights, and exact stem to seat concentricity to render a finished product that is unsurpassed.

Manley intake valves typically are built with our original "Pro-Flo" design which reduces the stem diameter in the fillet area for increased airflow but also less valve weight.

In certain specific applications, Manley offers our "Extreme Duty" exhaust material. Our "Extreme alloy" alloy offers more hot hardness and high temperature strength than our competitors' offerings. This alloy is ideal for extremely high boosted applications where the exhaust gas temperatures reach what seem like unthinkable levels.

Manley stainless valves are suitable for all applications ranging from the mild street performer to the jaw dropping 1000+ horsepower race cars competing at the drag strip or drifting events.
Head Diameter: 36mm
Margin: 0.05
O/A Length: 104.6mm
Seat Width: .080"
Stem Diameter: 6.0mm/.2362"
Tip Length: 3.5mm
Top of Head: 17¬8 DishInstalled Height: Stock
Underhead Angle/Radius: Pro Flo: 22¬8 x 5/16"
Product Applications
| | | | | | | | | | | |
| --- | --- | --- | --- | --- | --- | --- | --- | --- | --- | --- |
| Year | Make | Model | Cylinders | Liters | Fuel type | Fuel Delivery | Aspiration | ENGINE Designation | Position | Notes |
| 2005 - 2006 | SAAB | 9-2X | ALL | ALL | ALL | ALL | ALL | ALL | | Race Series Valves; Intake; Set of 8 |
| 2002 - 2012 | SUBARU | IMPREZA | ALL | ALL | ALL | ALL | ALL | ALL | | Race Series Valves; Intake; Set of 8 |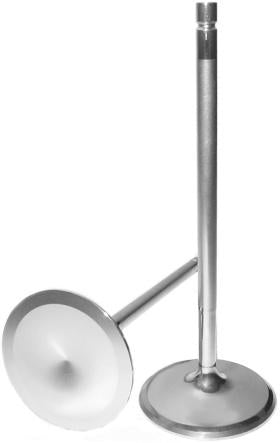 Manley Performance Race Series Race Flo Intake Valves 36mm +1mm Subaru WRX EJ205 EJ255 STi EJ257