This fully programmable Plug and Play product opens the door to virtually limitless performance modification and tuning of your vehicle. Programmable systems allow you to extract all the performance from your engine by delivering precisely the required amount of fuel and ignition timing that your engine requires for maximum output under all operating conditions.
Features:
Direct plug and play replacement of the OEM ECU, no re-wiring necessary
Uses the cars factory sensors
Supports Sequential Injection (peak and hold) and Direct fire ignition
Windows 2000, XP, Vista, Windows 7 compatible software
Real time programming, instant hesitation free adjustment while engine is running
Fully user definable 32 x 32 mapping
Tuning via Volumetric Efficiency (VE), Injection time or Lambda Correction (MAF)
Diagnostic trouble code storing and Check engine light control (Access through laptop only )
Selectable onboard internal MAP sensor rated to 150kPa (up to 1.5 Bar or 22psi boost)
Wideband "auto tuning" using user definable target AFR table
USB and CAN Communication Port
4 x Fuel Injector outputs
2 x Ignition outputs
Tacho, Boost Control, AC Clutch Relay, Idle Control
Thermo Fan, Check Engine Light, Fuel Pump (Variable Speed)
MAF sensors, Throttle Position Sensor, Oxygen sensors
Coolant Temperature sensor, Vehicle Speed Sensor, Air Temperature sensor
Expansion I/O: 2 x Analogue Voltage inputs
2 x Analogue Temperature inputs
4 x Digital pulsed outputs
Closed Loop O2 Control
Decel Cut Over Boost Rev Limiter
Closed & Open Loop Boost Control
Gear Setup
ACF On Base Tables
Transient Throttle Enhance
Correction Tables: Fuel Ignition Boost: Cranking, Air Temp Target Correction, Coolant Temperature Correction, Map Correction, Zero Throttle Gear Correction, Cylinder Trim, TPS Correction, Generic Correction 1, Generic Correction 2, Gear Correction, Post Start, Air Temp Duty Correction, Post Start
Data Logging: 448Kb of onboard data logging, Storage for approx 40 minutes at 10 logs per seconds, 6 channels of data
Max 20 channels logging capability
Tune can be password protected in software
Rugged anodized aluminum casing
Power Requirements: 8.6 to 16.5 Volts DC
Consumption: 530mA @ 12Volts DC
ECU Dimensions Length: 154mm (174mm with MAP nipple) Width: 158mm Height: 42mm Weight: 680g (1.5 lb)
Fitment:
Honda S2000 AP2 Non DBW 2005-2009
Note:
For Racing Use Only
Pictures used for marketing purposes only, actual product may vary.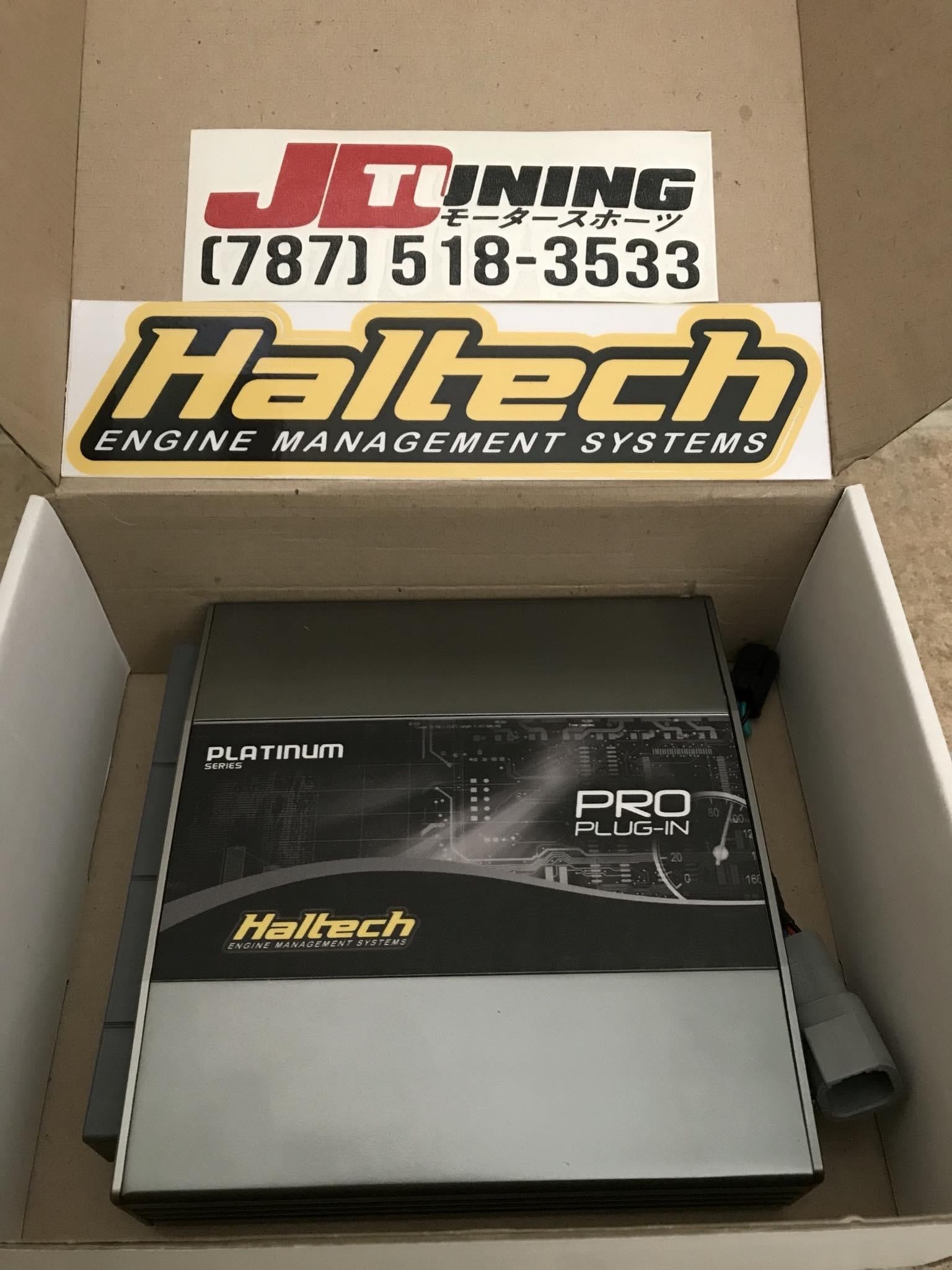 Haltech Platinum PRO Direct Plug in ECU Kit Honda S2000 AP2 Non DBW 05-09