SwitchPanel Mini is a compact and multicolor backlight button panel that communicates with the PowerFT line ECUs (FT450, FT500, FT500LITE, FT550 and FT600) through FTCAN 2.0.
Using SwitchPanel-4 Mini, SwitchPanel-5 Mini and SwitchPanel-8 Mini will make your build look even better. It's compact size allows it to be installed in any space. It has versions of 4, 5 and 8 buttons. The identification of each button is done through several predefined labels that come with the product, in addition to allowing you to create your own label using the blank labels. In this way, each button will be very well identified, especially for the colored LED lighting that varies according to the programmed function.
Another benefit of using the SwitchPanel Mini is that it saves up inputs of the PowerFT ECUs and allows you to expand your build without having to use PowerFT ECUs with more inputs.
SwitchPanel Mini is compatible with all the features present in the PowerFT line ECUs. All buttons can be configured, such as 2-step, Air conditioning, Boost +, Engine start button, switch dashboard screen, etc. Switch type functions are also supported such as the day / night mode button, Burnout, Progressive Nitrous, internal datalogger, etc.
The SwitchPanel Mini has well-spaced buttons with a clear tactile perception and is perfect for use with gloves. It has IP67 protection against water and dust (complete protection against dust and immersion up to 1 meter for up to 1 hour). The case has screws on the back, which allows easy and discreet installation and can be integrated into the dashboard, which makes its design even more professional.
TECHNICAL DESCRIPTION

Supply Voltage: 12-24Vdc
Standby Current: <50mA
Communication BUS: FTCAN 2.0
CAN connector: 1 Molex male, 1 Molex female
Switch Life: million operations
Material: Silicone rubber with polyurethane hardcoat
Mounting Studs: #10-32 (3/16"x32)
Ingress protection Rating: IP67/NEMA6
Dimensions: 4.98 x 2.70 x 0.82 in
CONTENTS OF PACKAGING
1 SwitchPanel-8 Mini
1 Harness for installation
1 operation and installation guide
1 mounting kit (2x #10-32 nuts & washers)
1 SwitchPanel label sheet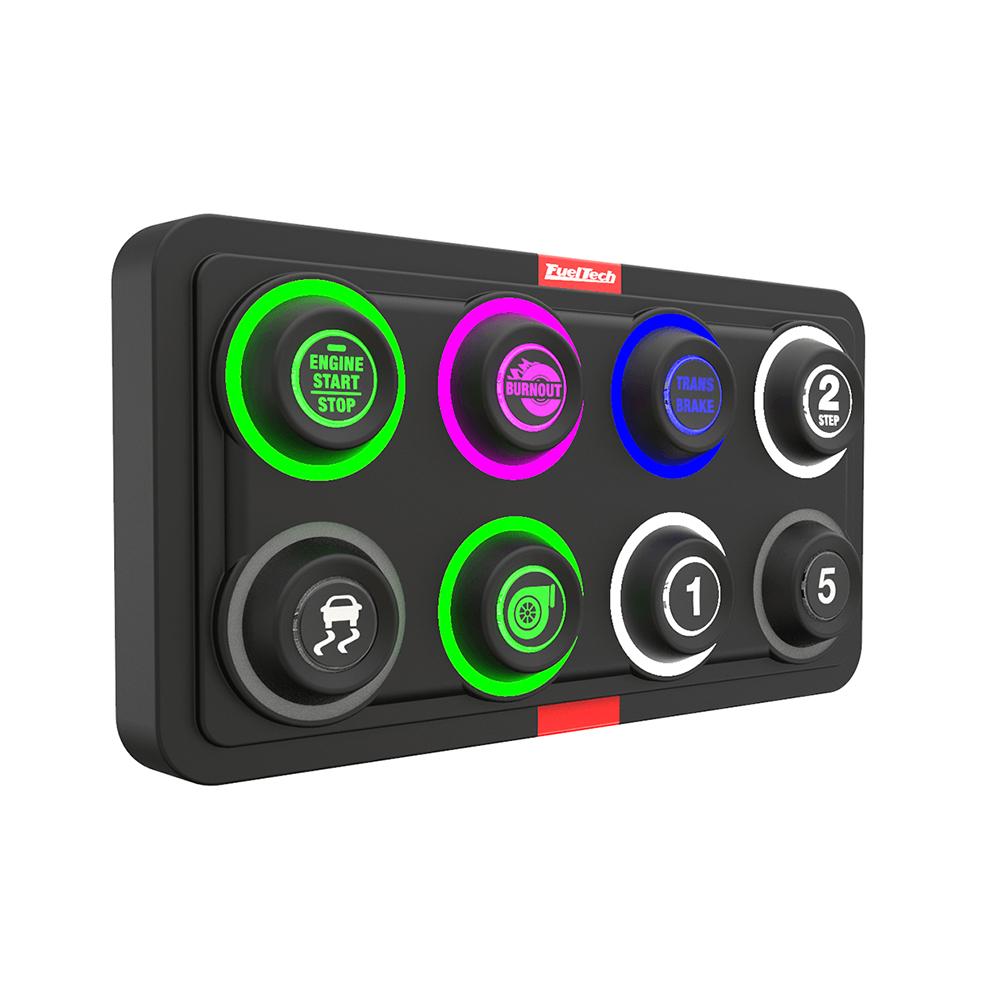 FuelTech SwitchPanel-8 Mini multicolor backlight