This piston is designed to be used with a standard-stroke Crank in an EJ257 block with a standard-length connecting rod. This combination works out to a 2.5L depending on bore size.
Compression Ratio:
This compression ratio is slightly higher than stock for added response.
Compression Ratio:
This compression ratio is higher than normal, and is designed to be used with race fuels like C16, or ethanol based fuels like E85, E98, etc. Higher compression means a faster spooling, more powerful engine, however it also means the tune must be even more accurate than a low compression engine.
Bore Size:
The bore size of this piston is larger than stock. That means the cylinder will need to be bored to match these pistons. We recommend not having the block bored till the machine shop has the pistons in-hand. The block should be bored to YOUR pistons.
File to Fit Rings:
These pistons come with file-to-fit rings. This means the rings come slightly-long, and MUST be filed to the desired ring-gap for your application. This ring gap can vary depending on what your engine will be used for. For example, a 1000hp drag-only application will have a much different ring gap than a 300hp daily driven engine. Consult with your engine builder before filing your rings, and do not install the rings without filing them.
These pistons, like many aftermarket pistons, are made of 2618 alloy. 2618 is a strong, durable, forged aluminum alloy that can withstand a large amount of abuse in race applications.
Tools:
If you are installing these pistons yourself, there are some tools you will need to install them in your engine correctly. We can help supply you with these tools if you don't already have them. At the very minimum you will need a quality torque wrench and a ring compressor. You should also get a quality bolt-stretch gauge to properly torque your rod bolts. Please see the supporting mods section of this page to add these tools to your shopping cart.
CP Standard Shelf Pistons
Features
Dedicated forgings
Balanced to + or 1 gram
Wrist pins provided at no cost
Pin fitting provided at no cost
Accumulator Grooves
Dual forced pin oilers
Pick lock grooves
Fully CNC machined
USA Made
Pistons come with wrist pins, pin fitted, and locks.
CAM AND BARREL
The Cam is the shape around the skirt of the piston and the barrel is the shape from under the oil ring to the bottom of the skirt. Extensive research and development has been done to find the optimum skirt shape for each piston. These shapes have been found to seal up cylinders and reduce harmonics in the bore better than ever before. Depending on the forging and application, different cam and barrel profiles are utilized for maximum performance. Having the correect cam and barrel on a part promotes the following:
1. Tighter clearances
2. Less noise
3. Better ring seal
4. More power
5. Increased durability
ANTI DETONATION GROOVES (CONTACT REDUCTION GROOVES)
Also know as contact reduction grooves, which limit the piston/cylinder contact during high temperature and high RPM. These grooves also protect the top ring by disrupting detonation waves.



ACCUMULATOR GROOVE
V-shaped groove machined in the 2nd ring land that adds to the volume between the top and second ring. This groove accumulates residual gasses from combustion which alleviates top ring flutter and premature second ring wear, improving ring seal.
DOUBLE PIN OILERS
Double Pin Oilers (opposed to single pin oilers), in conjunction with our annular reservoir, can add twice the amount of oil from the cylinder wall to the wristpin bore. This is a standard option on any piston that receives forced pin oiling.



BROACHES
Broaches are horizontal slots in the pinbore designed to allow oil to enter between the wristpin and pinbore. Broaches are also used to accommodate the wristpin shape under compression, as it can become somewhat oval and needs room in order to alleviate galling.
PIN FITTING
The pin bore is precision honed to attain an exact pin clearance. Depending on the application clearances typically range from .0003 to as much as .003 between the wristpin and pin bore.
Specifications
More Information

| | |
| --- | --- |
| Note | This is a full set of Pistons, Rings, Pins, and Locks |
| Item Weight | 404 g |
| Shipping Weight (Dimensional) | 6.000000 |
| | |
| | |
| Part Type | Pistons |
| Make | Subaru |
| Vehicle Model | Impreza WRX / WRX STi |
| Model | STi 04-07 GD, STi 08-14 GR, STi 15+ VA |
| Engine | EJ257, EJ257B |
| Stroke | 79mm (Standard Stroke) |
| Compatible with Stock Sleeves | Yes |
| Requires Aftermarket Sleeves | No |
| Compression Ratio | 9.0:1 |
| Bore Diameter | 99.75mm |
| Pin Size | 0.905" / 23mm |
| Upgraded Pin (not included) | 905-2500-26CP3S |
| Included Ring Set | RS1658-3927-0 |
| Included Pin Locks | 905x055 SUB |
| Included Pin | 905-2500-18CP1S |
| Head cc | 56 cc |
| Dome cc | -14.5 cc |
| Compression Height | 1.208" / 30.7mm |
| Brand | CP Pistons |
| Skirt Type | Full Round |
| Rod Length | 5.137" / 130.5mm |
| Piston Material | 2618 |
| Compression Ratio Range | 8.0:1 - 9.0:1, 9.0:1 - 10.0:1 |
| Bore Oversize | 0.010" / 0.25mm |
| Rod Length Oversize | Standard Length |
| Carb Legal | Unspecified |
| Wrist Pin Wall Thickness | 0.180" |
| Wrist Pin Dimensions | .905" x 2.500" x .180" |
| Pin Material | 5100 Chrome Moly Steel |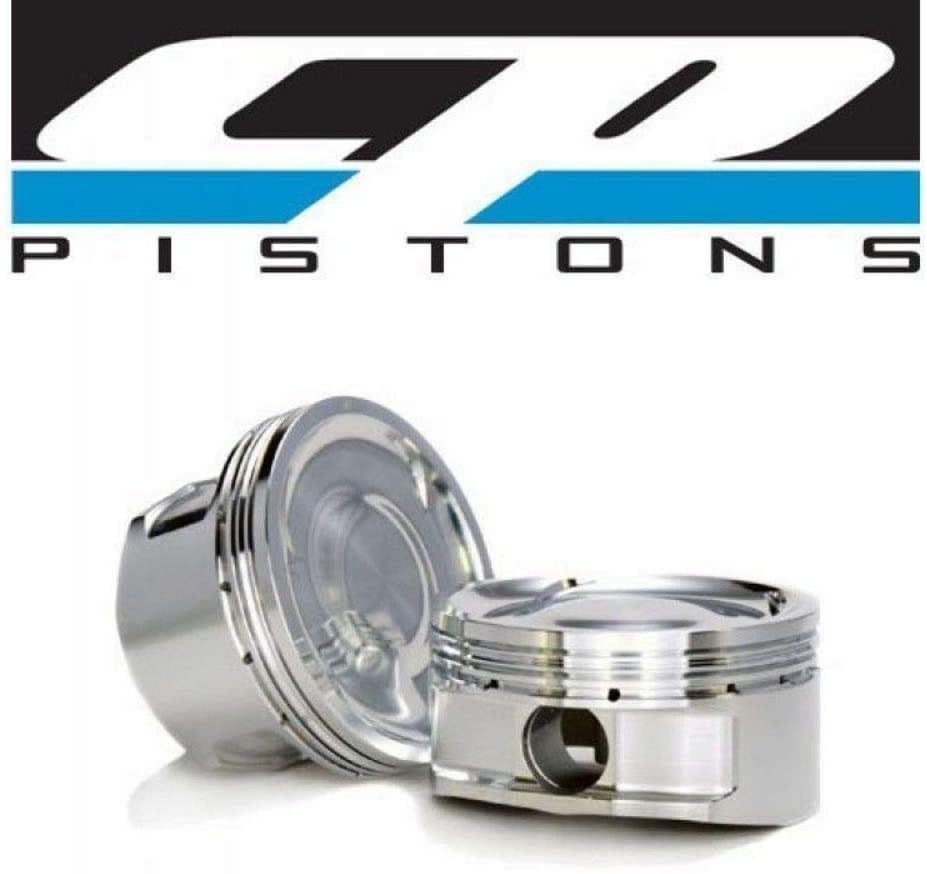 CP Forged Pistons Subaru WRX STi EJ257 2.5L 99.75mm +0.25mm -14.5 cc 9.0:1