THE AEM WATER/METHANOL INJECTION SYSTEM ADVANTAGE
Water/methanol injection for forced induction (turbocharged or supercharged) gas-powered race engines is a proven means for effectively reducing engine inlet air temperatures and suppressing harmful detonation. This allows racers to reliably increase boost and advance ignition timing—without using high-octane racing fuel—for power gains of up to 20%. AEM's Water/Methanol Injection Systems utilize the most robust hardware combined with more advanced features than any other comparably priced water/methanol system.
WATER/METHANOL INJECTION ADVANTAGES FOR GAS ENGINES:
Reduces Air Inlet Charge Temps
The term "liquid intercooling" with water/methanol injection refers to a highly atomized mist of water/methanol that is injected into the airstream and begins to evaporate. As it does, this evaporative effect reduces air charge temps by as much as 100 degrees, and delivers a more oxygen-rich air charge.
Reduces Detonation (Knock)
Water absorbs heat, and methanol is a cool burning, anti-knock rated fuel. When combined and introduced into the inlet stream, they can effectively increase your vehicle's anti-knock index so you can reliably increase boost pressure and advance ignition timing using pump gas.
Reduces Carbon Deposits
Modern vehicles fitted with Exhaust Gas Recirculation (EGR) devices for emissions control promote heavy carbon build up inside the air intake. This carbon build-up can create 'hot spots' in the combustion chambers that can cause detonation. Water/methanol injection has a 'steam cleaning' effect that reduces this carbon build up, and in some cases can increase fuel economy.

Robust, Easy to Use Controller Designs
The new controller designs (Boost Dependent Kit PN 30-3300 & Multi Input Kit PN 30-3350) feature large, turn-resistant knobs and larger numbering to easily set accurate start and full activation points, with covered status LED and test buttons for added splash resistance. A plug is integrated into the controller housing for mating to the redesigned wiring harness's positive-lock connector. The Boost Dependent controller housing has a molded-in, barbed nipple to accept a boost hose and a wiring legend on the back. Both controller housings feature an easy to access integrated fuse and molded mounting tabs.
Simplified Wiring
AEM's Water/Methanol Injection kit's wiring harness is terminated with a positive-lock connector on one end and has color-coded wires to ease installation. Both the power and ground wires for the pump are included in the harness which simplifies the wiring process and eliminates any chance of the pump accidentally activating from a short in the system. An additional wire is included for adding an optional on/off solenoid to stop fluid flow when the system is inactive.
Integrated Boost Safe Feature
The controllers in AEM's Water Methanol systems include an integrated "Boost Safe" output feature that monitors the entire injection system and triggers a ground signal via an output if it detects a voltage-related error (short, bad connection, broken wire, overheated pump, high or low voltage signal, etc.), allowing users to define their failsafe strategy from something as simple as flashing a warning light to more advanced strategies like pulling boost or ignition, or switching fuel maps on a standalone engine management system. Combined with the integral and highly accurate conductive low-fluid switch in the tank, "Boost Safe" can also put your engine in safe mode before the system runs dry. This exclusive feature is found only on AEM Water/Methanol Injection Systems.
Heavy-Duty High Pressure Injection Pump
AEM's internally-bypassed water/methanol injection pump does not cycle on and off and provides quiet, smooth operation. It features robust construction including integral hose fittings, EPDM seals and a Santoprene diaphragm that provides consistent and reliable fluid delivery.
Low-Profile 1.15 Gallon Tank
AEM's gas Water/Methanol Injection Systems are available with or without a compact 1.15 gallon tank that features an anti-starvation reservoir. A more accurate, conductive low level fluid sensor is integrated into the tank and features a positive lock connector with color-matched wires to the wiring harness. The sensor eliminates any chance of incorrect readings due to interference from debris.
Machined Billet Injectors and Nozzles
AEM includes one precision-machined billet injector in its gasoline Water/Methanol Injection kit. It features an integral check valve to prevent unintended fluid flow. Three billet injector nozzles are included for matching water/methanol flow to an engine's horsepower output. Click the link for a Nozzle Flow Guide graph.
Revised Flow Control Strategy for More Linear Fluid Delivery
AEM's engineers spent extensive time revamping the controller's flow control strategy for a more linear flow output delivery. This means that the flow delivery better matches an engine's need for water/methanol injection, which further optimizes charge air cooling and detonation control.
Boost Dependent and Multi-Input (0-5v/frequency) progressive controller designs feature large adjustment knobs, integrated plug for harness connection, integrated fuse, covered status light and test button for enhanced splash resistance and mounting tabs
Wiring harness is terminated with a positive-lock connector on one end with color-coded wires to ease installation, integrated pump ground circuit and additional wire for optional on/off fluid solenoid
"Boost Safe" failsafe output included (for complete failsafe under all conditions, see our Water/Methanol Failsafe Device)
Heavy-duty high-pressure injection pump features integral fittings, a Santoprene diaphragm and EPDM seals to resist corrosion. Our pump maximizes line pressure for optimum atomization and its quiet, smooth operation is almost undetectable
Precision-machined billet-aluminum injector with integral check valve
Three interchangeable injector nozzles to cover a wide variety of HP levels (250cc/min, 500 cc/min & 1,000cc/min)
1.15 gallon tank with anti-starvation reservoir, integral conductive low-fluid sensor and positive lock connector (tank-less systems available)
20 feet of injection tubing included
LED dash light for system status and low fluid warning
THIS PRODUCT MAY BE USED SOLELY ON VEHICLES USED IN SANCTIONED COMPETITION WHICH MAY NEVER BE USED UPON A PUBLIC ROAD OR HIGHWAY, UNLESS PERMITTED BY SPECIFIC REGULATORY EXEMPTION (VISIT THE "EMISSIONS" PAGE AT HTTP://WWW.SEMASAN.COM/EMISSIONS FOR STATE BY STATE DETAILS.
IT IS THE RESPONSIBILITY OF THE INSTALLER AND/OR USER OF THIS PRODUCT TO ENSURE THAT IT IS USED IN COMPLIANCE WITH ALL APPLICABLE LAWS AND REGULATIONS. IF THIS PRODUCT WAS PURCHASED IN ERROR, DO NOT INSTALL AND/OR USE IT. THE PURCHASER MUST ARRANGE TO RETURN THE PRODUCT(S) FOR A FULL REFUND.
THIS POLICY ONLY APPLIES TO INSTALLERS AND/OR USERS WHO ARE LOCATED IN THE UNITED STATES, HOWEVER CUSTOMERS WHO RESIDE IN OTHER COUNTRIES SHOULD ACT IN ACCORDANCE WITH THEIR LOCAL LAWS AND REGULATIONS.
Important Safety Notice Regarding Methanol
AEM Water/Methanol Injection Systems are chemically compatible with a mixture of water and methanol, which we strongly recommend does not exceed a concentration of more than 50% methanol. In addition to inherent dangers of using 100% methanol, doing so will damage the system's flow sensor and void the warranty on this component.
Methanol is a toxic and highly flammable chemical. 100% Methanol ignites easily and burns vigorously with an almost undetectable flame. Methanol can be absorbed through the skin and even small amounts can cause blindness or even death. Using this fluid at high pressures, without dilution, in an under-hood environment with nylon lines and push-to-connect fittings is very unsafe. The performance advantages of using greater than 50% methanol concentrations are small, if they exist at all. However, the safety issues are very real and far outweigh any perceived benefit of running high concentrations of methanol.
WARNING!
Improper installation and/or adjustment of this product can result in major engine/vehicle damage. For technical assistance visit our dealer locator to find a professional installer/tuner near you.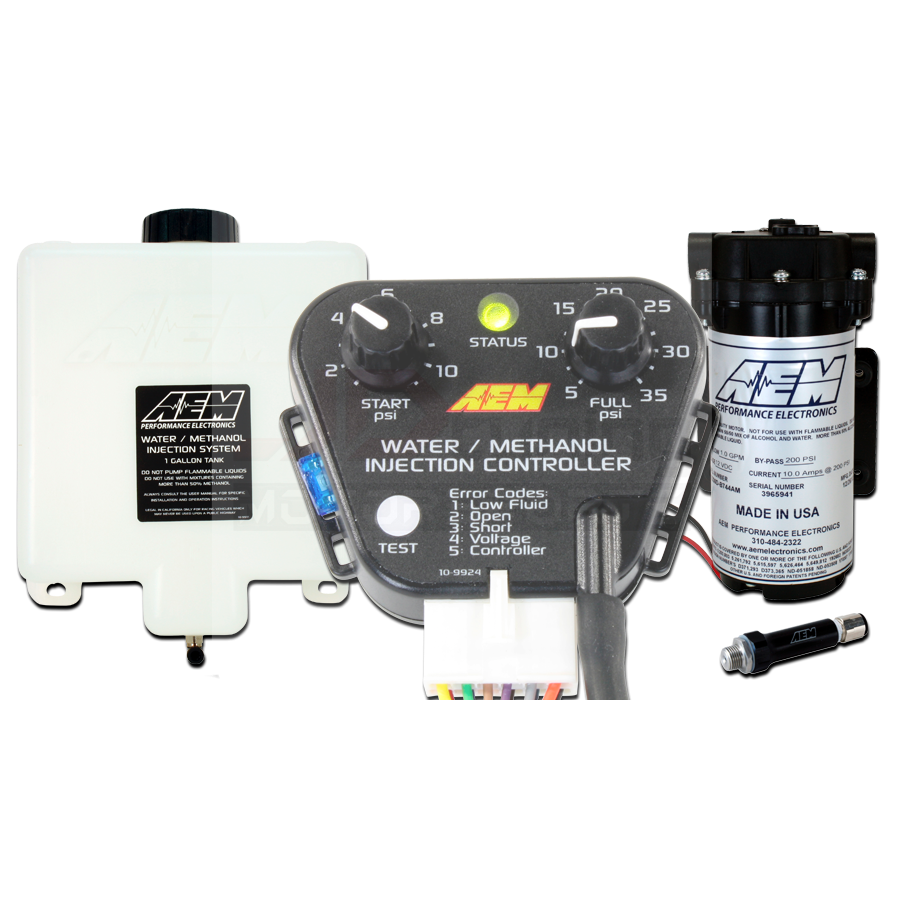 AEM Water/Methanol Injection Kit for Forced Induction Gasoline Engines