AEM's 22 Channel CAN Sensor Module (PN 30-2212) converts analog, digital and frequency inputs into an AEMnet CAN bus signal that can be transmitted to the CD-5 Carbon and CD-7 Digital Dashes. This expansion module provides a way for users with carbureted vehicles to add a CD Digital Dash Display and lets users with existing CAN-based devices add more channels to the display for viewing and/or data logging (data logging requires CD-5L Carbon or CD-7L logging Dashes). The 22-Channel CAN Sensor Module is compatible with the CD Dashes only; it will run in parallel with 3rd party CAN devices on the CD dashes but it is currently not compatible with AEM's AQ-1 Data Logger, Series 2 or Infinity ECUs, or 3rd party ECUs or loggers.
WHAT YOU GET
The 22 Channel CAN Sensor Module includes four 0-5v analog inputs, four Temp inputs, four user-configurable inputs for 0-5v, Temp (including RTD), a dedicated fuel level input, six configurable digital inputs or frequency-based inputs for switched or duty cycle, a Tach input and two VR inputs for crank, wheel or driveshaft speeds. A harness is included with pre-pinned, 36-inch color-coded wires to connect inputs, and a DTM-style AEMnet cable to connect to a CD-5 or CD-7 Carbon Dash. Users can select the CAN speed delivery rate.
FOR CARBURETED VEHICLES
The 22 Channel CAN Sensor Module has everything that users need to get data onto the Dash in a carbureted vehicle, including tachometer and fuel level, wheel speeds for MPH, and pressure/temp sensors. Users can daisy-chain two of the Modules together, which is ideal for enthusiasts who have a logging CD Dash and want to expand their logging capabilities.
FOR CAN-BASED EFI USERS
Racers who are using a CAN-based programmable ECU and have consumed all of the inputs in the ECUs now have a way to add more channels to a CD Dash without having to purchase multiple CAN-based devices.
Convert analog, digital and frequency-based inputs to AEMnet CAN bus for display on CD-5 Carbon and CD-7 Dashes!
Perfect for users with carbureted vehicles who want to add a CD Dash display
Ideal for EFI users who want to add more channels to a CD Dash without purchasing multiple CAN-based devices
Daisy chain two Modules together for additional channels
IP65-rated enclosure is 'dust tight' and water resistant
Wiring harness included with 36-inch flying leads and pre-wired CAN cable
Four dedicated 0-5V Analog inputs
Four Temperature (thermistor) inputs
Four user-configurable Analog inputs, (jumper selectable; 0-5v, thermistor, or RTD)
One dedicated Fuel Level input (0 to 250 ohm range)
Six configurable Digital or Frequency inputs, active low, protected to ~18v, frequency, duty cycle or simple switch
One Tach input, trigger when low, 12v internal Pull Up
Two VR Pair Frequency inputs (crank, wheel or drive shaft speeds)
Jumper selectable CAN bus speeds, 250k,500k,1M
Jumper selectable terminating resistor
Jumper selectable header length, 11bit or 29 bit
Dimensions: 4.7" L x 4.3" W x 1.4" H (not including connector)
Weight: 6.4oz / 180g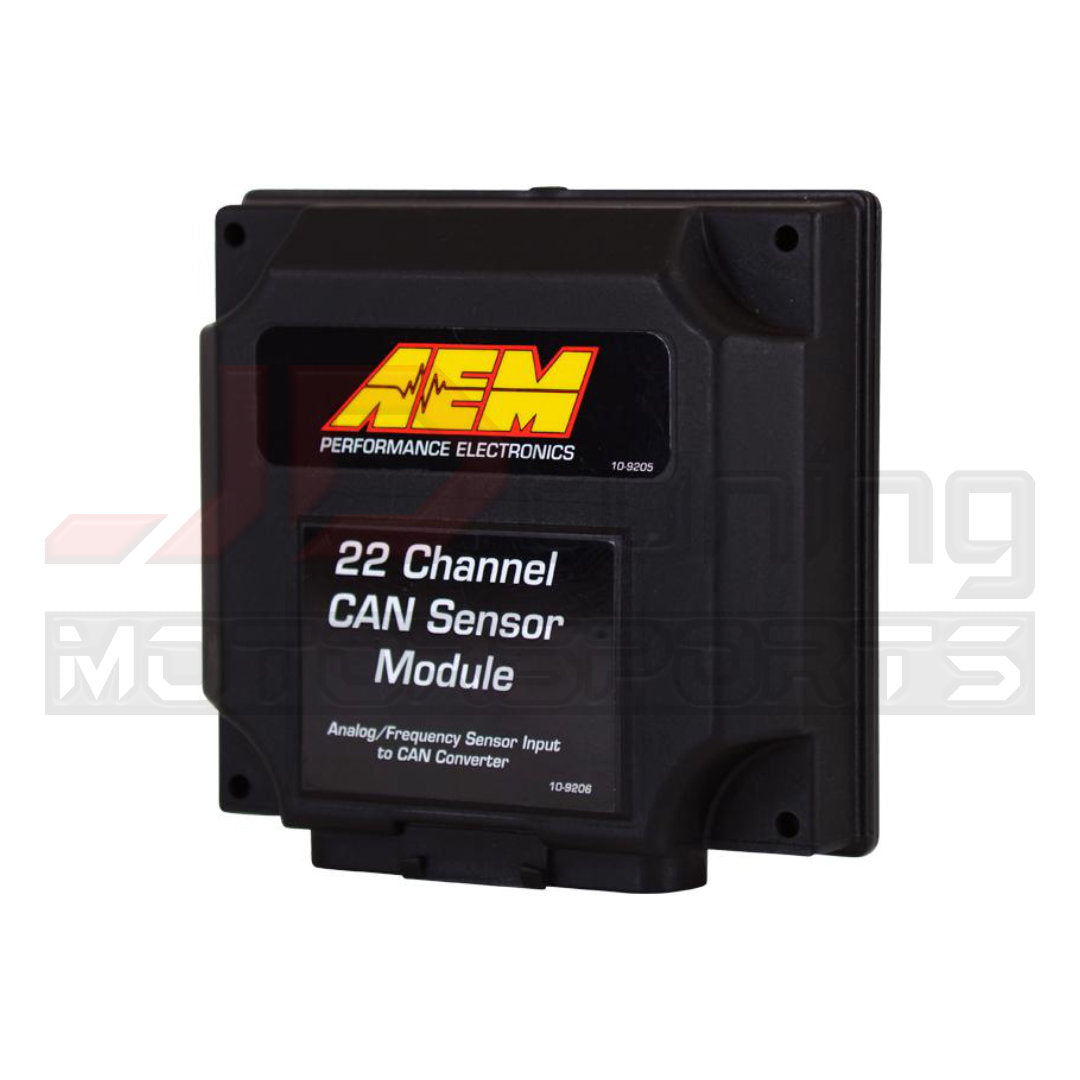 AEM ELECTRONICS (PN# 30-2212) 22 Channel CAN Sensor Module