Originally developed for the 2010 Ford Cobra Jet Mustangs, these 6 gallon aluminum fuel cells feature the same advantages of the 15 and 20 gallon versions, but without the street-style sending unit. Plus, the compact 6 gallon size, makes it perfect for drag racing and other like applications where large fuel capacity is not an issue. This product is not legal for sale or use on emission-controlled vehicles except when used as a direct replacement part matching OEM specifications.
This is a truly universal aluminum fuel cell featuring an Aeromotive high performance fuel pump and pre-pump filter built right into the fuel cell. These Stealth Fuel Cells feature an innovative integral baffling system to maintain a column of fuel at the pickup point, eliminating fuel slosh issues making these cells perfect for any application from autocross, to road racing to drifting and off-road.
Simply strap the cell in, hook up your feed and return lines and your done. Now you have a complete "in-tank" fuel system without the need for expensive custom tanks or the hassle of welding sump boxes or modifying inadequate pick up tubes.
Part Number 18659 Features:
340 Fuel Pump (internal) – P/N 11140
6.2 Gallon Capacity
ORB-08 Outlet Port
AN-08 Return Line Provision
(2) AN-08 Vents with Rollover Valves
Standard 12-Bolt Flush Mount Lid Assembly
Natural Aluminum FinishSupports up to:
EFI – 700hp  Forced Induction
EFI – 850hp Naturally Aspirated
Carbureted – 850hp Forced Induction
Carbureted – 1000hp Naturally AspiratedDimensions:
12"L x 12"W x 10"H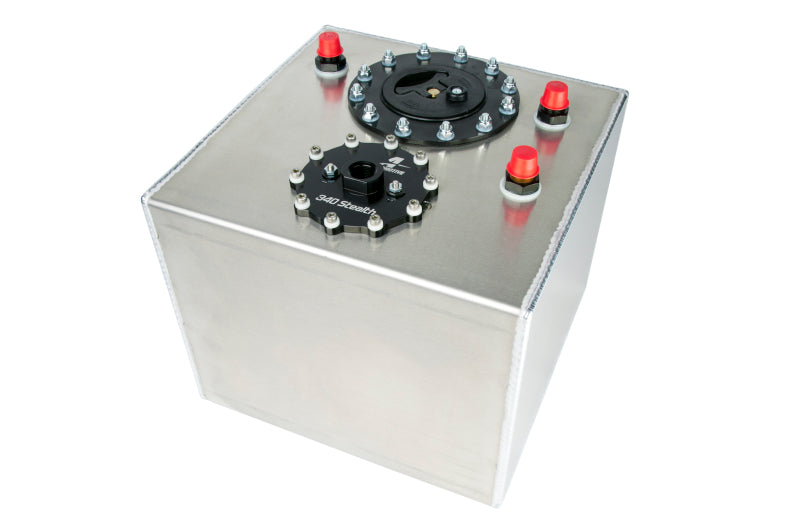 340 Stealth Fuel Cell, 6 Gallon