Ford Mustang GT (2005-2016)/GT350 (2015-2016)/ Boss 302 (2012-2013)/Cobra (1999-2004) Fuel Injector Clinic Injector Set: 8 x 1000cc/min (95lbs/hr) at 3 bar (43.5psi) fuel pressure. Saturated / High Impedance Ball & Seat Injectors. Drop-in for size and plug.
These injectors utilize the latest technology and provide great linearity and short pulse width repeatability.
Plug and Play Ford ECU Data Available at http://fuelinjectorclinic.com/FordData
This injector set is precisely matched using Fuel Injector Clinic's proprietary Data Match Technology. Each injector is individually serial numbered and the results are provided on the Data Match Sheet providing the most complete flow matching and latency value information available in the industry today.

Fuel Injector Clinic injectors are flow tested and rated at 43.5psi (3Bar) at 90deg F fuel temperature using CF-16B calibration fluid.

Superior short pulse width control and state of the art matching make these injectors easy to tune and provide great drivability.

Fuel Injector Clinic injectors are set up to and include all o-rings needed to fit the factory application for the listed vehicle. If you are using aftermarket or other unusual setups please contact us prior to placing your order to make sure you receive injectors that fit properly.

Every injector is covered against failure caused by defects in original manufacture by our lifetime warranty.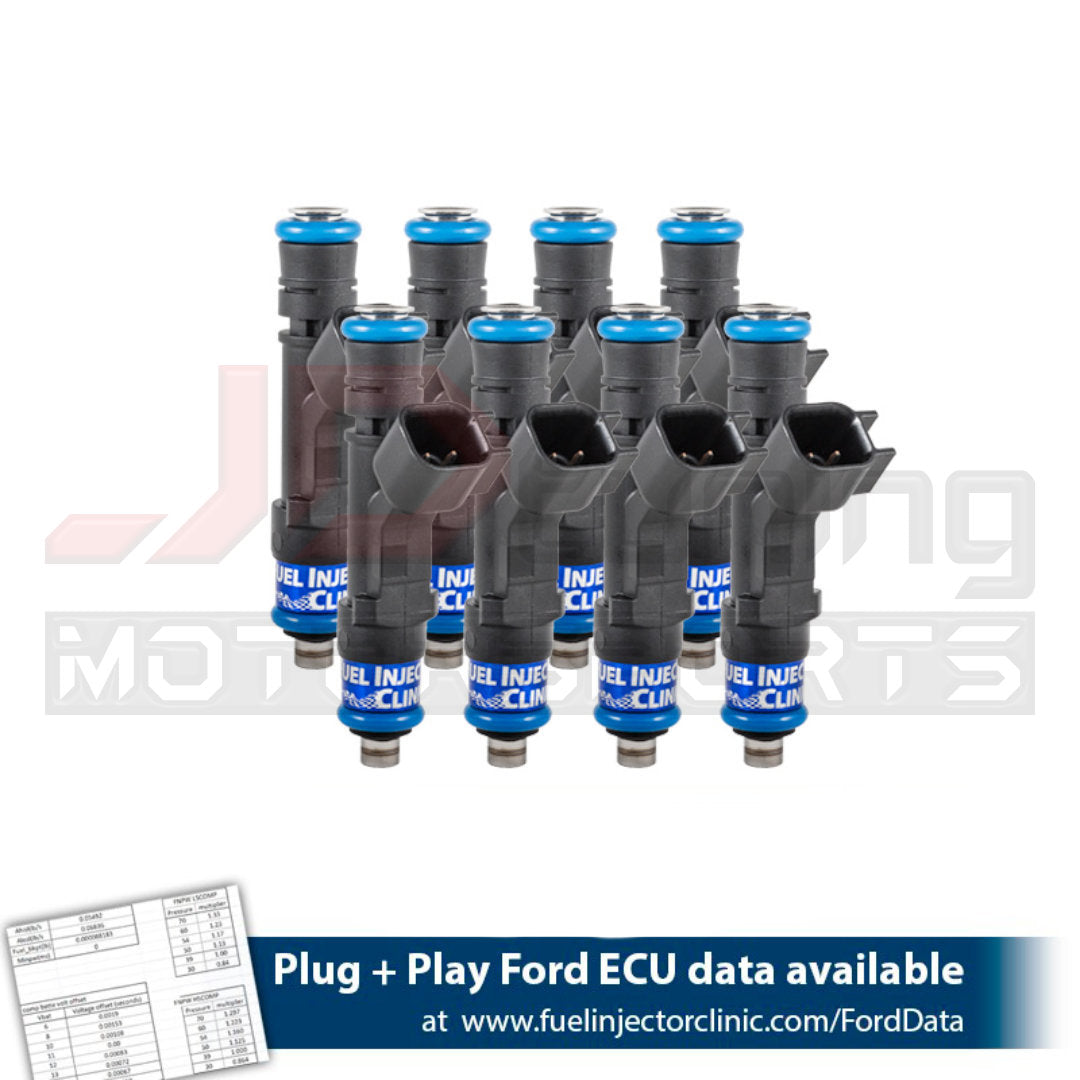 1000cc (95 lbs/hr at 43.5 PSI fuel pressure) FIC Fuel Injector Clinic Injector Set for Mustang GT (2005-2016 )/GT350 (2015-2016)/ Boss 302 (2012-2013)/Cobra (1999-2004) (High-Z)