Fits all 2017-2021 Honda Civic Type-R FK8
Fits 2016-2021 Honda Civic 10th Gen (1.5T & 2.0L)
Fits 2022+ Honda Civic 11th Gen (1.5T & 2.0L)
Fits all variant models including Si, 6MT, CVT, RHD, International Models, Etc.

As a company founded by enthusiasts with grassroots racing history dating back into the late 90's our team understands the importance of keeping Honda's racing heritage alive. Our goal with the Throwback Strut Bar project was to design a strut bar that was as light and structurally rigid as possible while reminiscent of the OEM strut bar offered on the iconic DC2 Acura Integra Type-R. The PRL Motorsports Throwback Strut Bar increases chassis strength, rigidity, and drastically reduces body flex to improve vehicle handling. Factory mounting points are retained for ease of installation and to meet various racing class specifications, such as SCCA Street Touring. This design is perfect for track users and daily drivers.
Technical Notes:
Custom 6061 Aluminum Extruded Tubing to PRL Specifications, Anodized Clear

10 Gauge Steel Brackets w/ Gussets, E-Coated Black
Increases Chassis Strength & Rigidity

Eliminates Body Flex & Deflection
CNC Machined Logo
Zinc Coated, High-Strength Hardware
Data: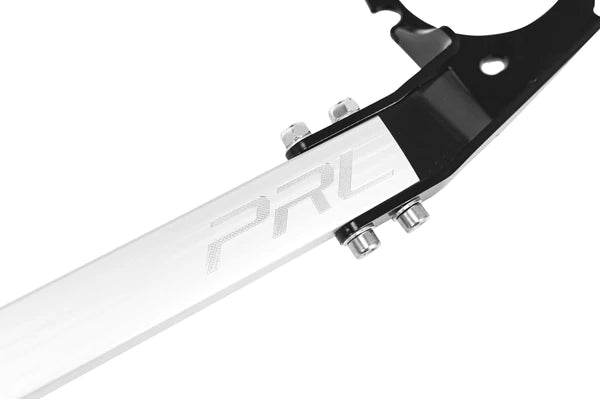 2016-2021 Honda Civic "Throwback" Front Strut Bar