OVERVIEW
The new Radium Engineering fuel pump hanger for the Mitsubishi EVO X has been redesigned for improved fuel collection and easier installation. It completely replaces the factory in-tank fuel pump module and allows 1 or 2 aftermarket fuel pumps to be used. The OEM level sender, fuel temperature, and fuel tank pressure sensor are retained in order to maintain factory functionality. Please note that product may differ slightly from what is shown in photos and videos.
FEATURES
-8AN ORB Female Pump-Out Port
-6AN ORB Female Return Port
-Collector Box with 1-Way Fill Valve
-Venturi Jet Pump Siphon
-Single Merged Fuel Pump Outlet
-High Current Electrical Connections
-Black Anodized Adapter Fittings
-Fuel Level and Temp Sensor Mount
-Twin Fuel Pump Compatibility 
-Stainless Hardware and Clamps
-Alternative Fuel Compatibility
---
PLUMBING
For direct connection to the OEM fuel lines, adapter fittings (shown installed below) are included with all configurations.

The fuel hanger can also be used with the included 8AN and 6AN adapter fittings, shown below, for installing aftermarket -AN style hoses.
Radium Engineering recommends upgrading the feed and return lines when using multiple pumps.
NOTE: There is an OEM pressure sensor (Mitsubishi 8651A025) found on the top hat to meet North American emission standards. For international vehicles that did not come with this standard, 20-0421 EVO X FUEL TANK PRESSURE PLUG is required. 
---
PREVENTING FUEL STARVATION
The kit includes a 1-piece anodized aluminum collector box that makes installation a breeze and keeps fuel trapped around the pump inlet(s). As shown below, there is a 355 LPH 1-way fill valve incorporated in the bottom of the collector that allows fuel in, but not out. The collector box is constantly replenished with fuel returning from the pressure regulator.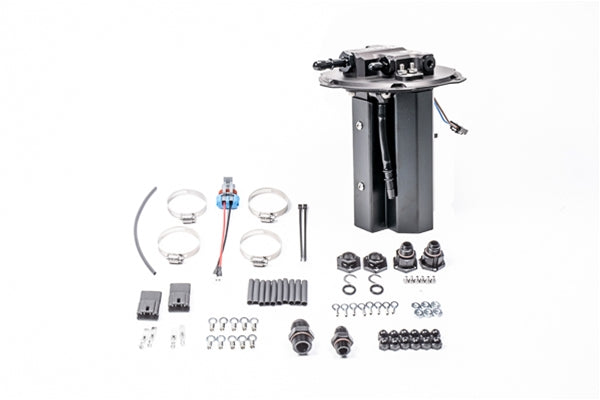 Radium Engineering EVO X Fuel Hanger (Pump NOT Incl) WALBRO GSS342 AEM 50-1200