| | |
| --- | --- |
| | SFI 1.1 |

200% INCREASED HOLDING CAPACITY OVER FACTORY KIT*
HEAVY-DUTY DRAG / ROAD / DRIFT RACING
MUST USE TYPE-R FLYWHEEL FOR 2017-2021 ACCORD 2.0L T
The 2MD Stage 6 Kit uses our extremely durable, high performance MIBA Unsprung Ceramic Disc. This kit features a single diaphragm heavy-duty pressure plate with reinforced drive straps for increased durability.This kit has an on and off engagement and is recommended for strictly race purposes. It is available in a 4 and 6 MIBA Ceramic puck configuration with the 4 puck being the more aggressive of the two.
This MIBA Unsprung Ceramic kit is engineered for low/mild horsepower vehicles. Our Stage 6 MIBA Unsprung Ceramic kit creates a quick engagement as well as some clutch chatter, which should be fairly minimal once proper break-in is completed.
After each kit is assembled, it goes through multiple quality checks before it is signed off by one of our lead engineers (50+ years combined experience).
Break-in Procedure
500 street miles / Keep RPM's under 4500, no more than half-throttle, no boost (if applicable)
Pressure Plate Features


All Clutch Covers Feature Ductile Iron Friction Plate
Reinforced Heavy Duty Drive Straps
4 Stage Heat Treated Diaphragm Springs
American Grade Rivets
100% Dynamically Spin Balanced

Clutch Disc Features

MIBA Friction Ceramic Material Pads
Rigid Hub Type
American Grade Rivets
Available in 4/6 Puck Configurations
What's Included
Stage 6 MIBA Unsprung Clutch Disc
Dual HD Pressure Plate
Release Bearing
Pilot Bearing / Bushing (when applicable)
Clutch Alignment Tool
Information Sheet
Action Clutch Swag
DISCLAIMER: Using a clutch kit with an unsprung clutch disc on a stock or lightly modified power engine that is daily/street driven vehicle can break the rivets on the clutch disc hub. Unsprung clutch kits are not designed for daily/street use or any constant on/off engagement environment. This can be compared to running a marathon in sandals vs a proper running shoe. If you were to run the marathon ins sandals, you have no cushion or comfort and can cause injuries or wear you down faster than using proper running shoes.
NOTE: Purchasing the wrong type of clutch kit for your specific engine power output can result in premature clutch failure, damage to the transmission and void warranty eligibility. If you're unsure what kit is right for you, please DM us on any of our social media channels or through our General Inquiries form.
*Ceramic based clutch discs intend to increase the holding capacity and durability of the clutch as opposed to an increased life expectancy. Using a ceramic based material for easy street driving may contribute to premature wear of the clutch kit due to the harsher engagement and because of the higher tendency to slip the clutch in street driving. Ceramic discs are never recommended for stock or lightly modified vehicle applications.
*Increase in holding capacity is rated in Crank Torque, not Wheel Torque
California Residents: Prop 65 WARNING: This product MAY contain chemicals known to the State of California to cause cancer and birth defects or other reproductive harm. Wash hands after handling. For more information, visit www.P65Warnings.ca.gov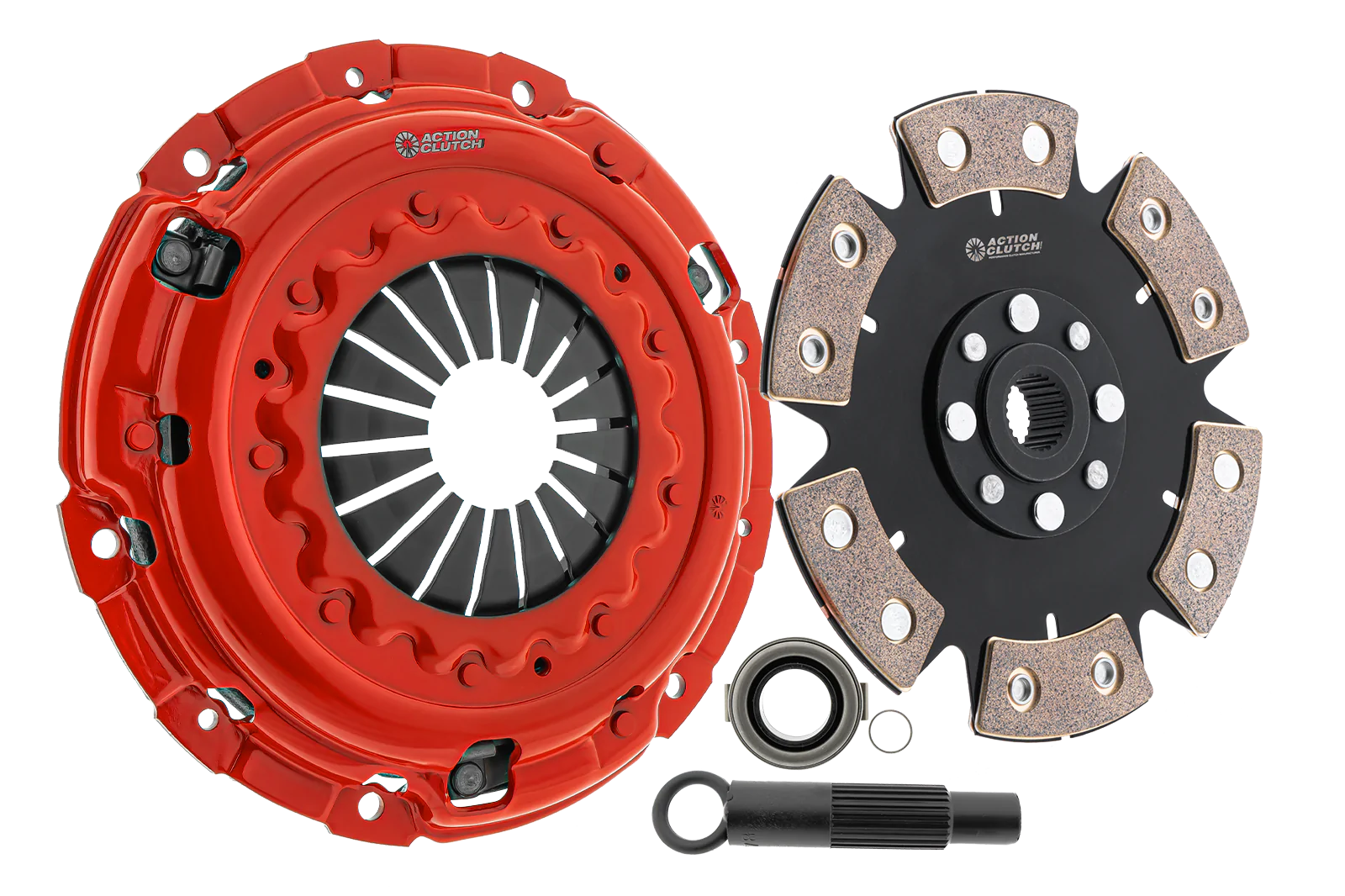 ACTION CLUTCH Stage 6 Clutch Kit (2MD) for Honda Civic Type R 2016-2021 2.0L Turbo (K20C1) / Honda Accord 2017-2021 (K20C4)